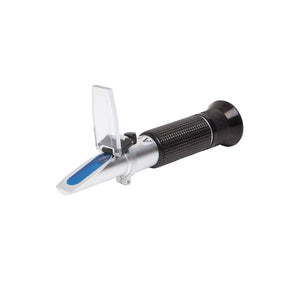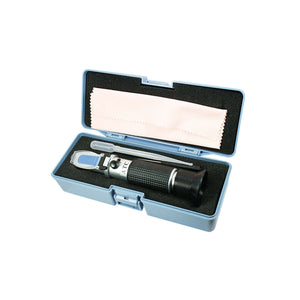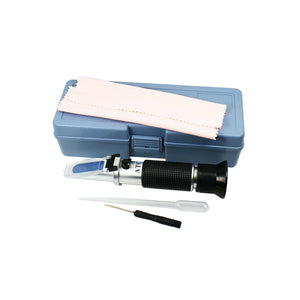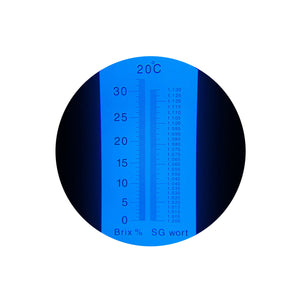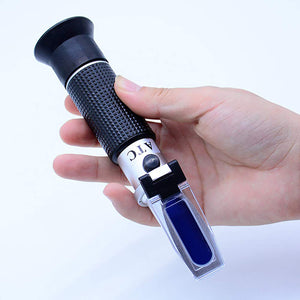 BRIX SPECIFIC GRAVITY REFRACTOMETER
A refractometer instantly reads gravity, in Brix and gravity, of unfermented wort or fruit juice by measuring the degree that light passing through the sample is bent. Unlike a hydrometer, only a few drops are required for a sample. To use, apply 2-3 drops to the prism face, close cover, and look through the eyepiece while aiming your refractometer at a light source.
Our refractometers measure from 0-32 Brix (with an accuracy of +/- 0.2 Brix) and 1.000 to 1.120 SG. They also include automatic temperature compensation for temperatures between 50-86 F, which eliminates the need to consult temperature correction charts.
Included
(1) Brix/Specific Gravity Refractometer
Brewers Note
The refractometer is not to be used after fermentation has started, light refracts differently through alcohol than it does water and sugar.
HOW IT WORKS
What is a Refractometer?
A refractometer is a simple instrument used for measuring concentrations of aqueous solutions. It requires only a few drops of liquid, and is used throughout the food, agricultural, chemical, and manufacturing industries.
Open the sample plate, make sure it's clean and dry, then add a few drops of your wort. If the wort is hot allow it to cool to room temperature first (ideally 68F). Close the sample plate, check for bubbles, and then hold the refractometer up to a natural light source.
When light enters a liquid it changes direction; this is called refraction. Refractometers measure the degree to which the light changes direction, called the angle of refraction. A refractometer takes the refraction angles and correlates them to refractive index (nD) values that have been established. Using these values, you can determine the concentrations of solutions.
ie., solutions have different refractive indexes depending on their concentration in water.