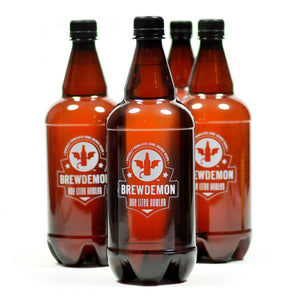 Regular price
$10.50
Available
Perfect amount for bottling a 1 gallon batch.
BASIC 4 BOTTLING SYSTEM
Bottle your home brew in style with these convenient, completely reusable and easy to clean bottles. These bottles are made of a high density polymer specially formulated to endure the pressures of bottle carbonation. Tinted amber, they will preserve your beer for months until you decide the time is right to enjoy the fruits of your labor. There is no better finishing touch for your home brewed beer than bottling it in the official BrewDemon logoed beer bottles.
Included
(4) 1-liter Amber PET Plastic Bottles
(4) Black Plastic Caps
(4) BrewDemon Bottle Labels