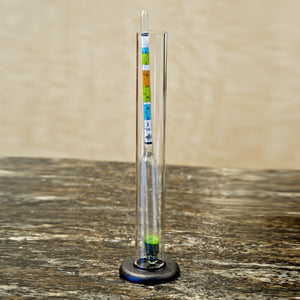 Complete kit and ready for testing.
HYDROMETER AND TESTING JAR
Includes a triple scale hydrometer and 10" plastic test jar. The hydrometer measures the density of the liquid to know when the fermenting is complete. The more sugar consumed by the yeast, the more alcohol is in the liquid. To test for this you use a hydrometer. This 3-scale hydrometer can measure specific gravity, potential alcohol & balling / brix. Specific gravity scale range from 0.80-1.150; potential ABV scale 0-16%; sugar per liter scale 0-34.
Included
(1) Triple Scale Hydrometer (10.5")
(1) 10" Plastic Test Jar 
Brewers Note
Fill test jar with enough wort that the hydrometer floats freely and does not bottom out.