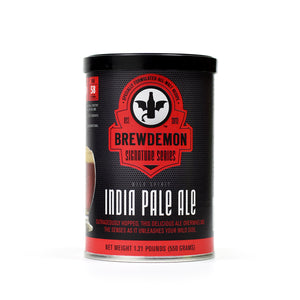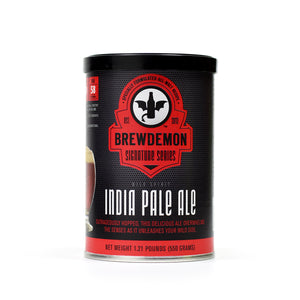 This specialty malt will make 1 gallon of beer on its own.
WILD SPIRIT INDIA PALE ALE (IPA)
Outrageously hopped, this delicious ale overwhelms the senses as it unleashes your wild side. This specially formulated hopped malt extract contains malted barley, hops and water. No additives or preservatives. BrewDemon mixes feature complex blends of specialty malts, combined with the finest hops by master brewers in New Zealand's famous Speight's brewery, providing the optimum flavor profiles for world-class beers.
Included
(1) 550g can of Wild Spirit IPA
(1) 2g packet of dry brewing yeast (under lid)
Brewers Note
Unlike our craft series malts, a single can of signature series malt can produce a 1 gallon batch of beer on its own. And combine with a second can (of this same malt) will produce a 2 gallon batch of beer. Sanitize everything before making your beer.