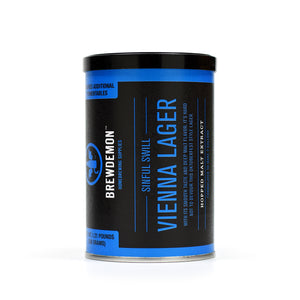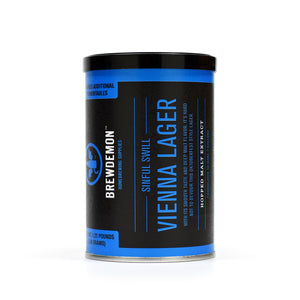 Requires additional fermentables to make beer. See brewing note.
SINFUL SWILL VIENNA LARGER
With its smooth taste and deep malt flavor, it's hard not to devour this Oktoberfest style lager. This hopped malt extract (HME)  contains malted barley, water, hops and caramel. No additives or preservatives. BrewDemon mixes feature complex blends of specialty malts, combined with the finest hops by master brewers in New Zealand's famous Speight's brewery, providing the optimum flavor profiles for world-class beers.
Included
(1) 550g can of Sinful Swill Vienna Lager HME
(1) 2g packet of dry brewing yeast (under black lid)
Brewers Note
Along with brewing sugar or unhopped malt extract, this hopped malt extract will make 2 gallons of beer. Sanitize everything before making your beer.