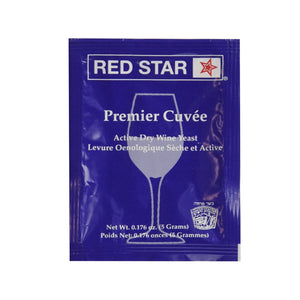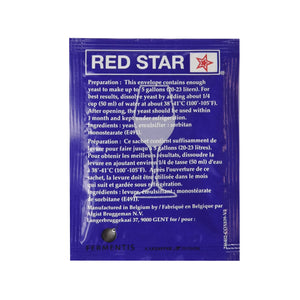 FERMENTS UP TO 5 GALLONS.
RED STAR CUVEE WINE YEAST
Red Star Premier Cuvee (Davis 796), a strain of Saccharomyces Bayanus from a French wine yeast, is a special isolate of Red Star Yeast & Products. This yeast has good tolerance to ethanol and free sulfur dioxide, and ferments to dryness. Premier Cuvee is noted as a very low producer of foam, urea, and fusel oils. It's recommended for reds, whites and especially champagne.
Included
(5g) Red Star Premium Cuv'ee Wine Yeast
Specs:
Manufacturer

Fermentis

Yeast Format

Dry

Yeast Type

Wine/Champaign

Yeast Origin/Influence

France

Min Fermenting Temp

45

Max Fermenting Temp

95

Flocculation

Low