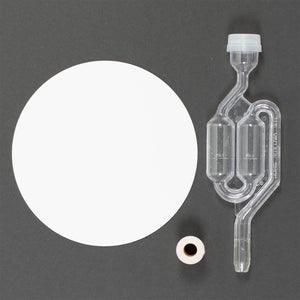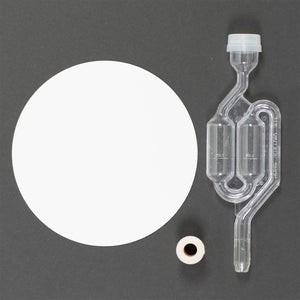 Designed to work with our 3 Gallon Conical Fermenter.
BUBBLER UPGRADE TO OUR 2-GALLON KITS
Bubble, bubble, without toil or trouble using this classic double bubble airlock. A double bubbler offers advantages that other airlocks simply can't. It will show the difference between the inside air pressure and the outside air pressure (a great way to gauge fermenting activity), and it can also prevent "suck back" (a term used for when liquid in the airlock is sucked into the fermenter due to temperature changes). Not to mention watching the bubbles is a great way to pass the time while you're waiting for your beer to complete fermentation.
Included
(1) Double Bubble Airlock
(1) #2 Rubber Stopper
(1) Lid Gasket (3 gallon fermenter)
Brewers Note
The lid gasket was designed to work with our 3 Gal. fermenter. Sanitize everything (inside and out) before using.