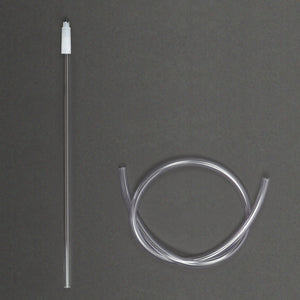 BOTTLE FILLER WITH SIPHON HOSE
Beer is to air what an angel is to a demon. The two just shouldn't mix at social functions. When air is introduced to beer it causes oxidation which results in stale cardboard tasting beer. Attach this bottle filler to the vinyl hose and it gives an easy way to control the flow of beer as you fill your bottles from the bottom up, limiting its exposure to oxygen. Spring activated, simply press the bottle filler down to the bottom of the bottle to control the flow. Bottle filler fits standard 5/16" and 7/16" hose.
Included
(1) 3/8" Bottle Filler (14" long)
(1) 3' Vinyl Hose (5/16" ID -  7/16" OD)
Brewers Note
Sanitize the hose and bottle filler (inside and out) before using to bottle your beer or hard cider.