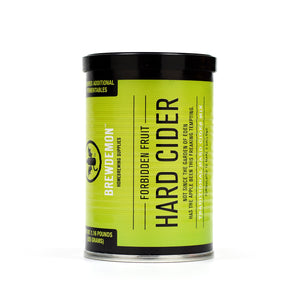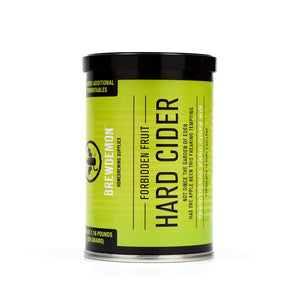 Requires Granulated Sugar to make 2 gallons of hard cider.
FORBIDDEN FRUIT HARD CIDER
Along with sugar and yeast this traditional hard cider mix has clean, crisp flavor with no additives or preservatives. Not since the Garden of Eden has the apple been this freaking tempting. Brewdemon® uses only 100% New Zealand Apples to provide the optimum flavor profile for world-class cider.
Included
(1) 525g can of Forbidden Fruit Hard Cider Mix
(1) 3g packet of Dry Hard Cider brewing yeast (Fermentis SC-22)
You will need
1 1/2 cups of Granulated Sugar
Brewing Note
Each recipe includes a packet of One Step No-Rinse Cleanser, enough to sanitize all your equipment during brewing and bottling. Sanitize everything that will come in contact with your cider before making this recipe.